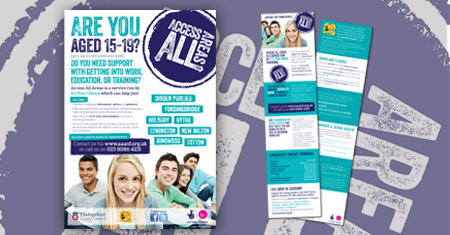 Access All Areas will provide vulnerable young people in the New Forest area with help and support with accessing benefits, finding accommodation and getting into work, education and training.
The striking new brand, which is based on the idea of a hand stamp for a music gig or a club, has been designed with the target audience directly in mind and is being used across all publicity materials for the service including the poster and concertina, fold-out business card leaflet, shown here.
It's Your Choice, Business Manager says:
"This is the first time we've worked with Recognition Design and we've been really impressed with the results. The brand and materials they've produced are very professional but also, as the feedback indicates, have real traction with the young people at whom they are aimed, which was of critical importance to us."
The charity have launched drop in sessions for young people, aged 15 – 19 (up to 25 with additional needs) across the New Forest area, and a new Accommodation Advice service, visit www.aaanf.org.uk for more information.