At the end of each year, Recognition make a donation to a specific charity and for 2018 we chose to support PEDALL (New Forest Inclusive Cycling) which runs cycling sessions for people who need additional support to get out and about in the New Forest National Park.
PEDALL, founded in 2011 by the New Forest National Park Authority, New Forest District Council and Hampshire County Council provide a variety of specialised bikes with different seating and steering positions, to assist those who face a barrier to accessing cycling on the New Forest off road cycle network. This could be anything from age, health and mobility issues to physical and learning disability.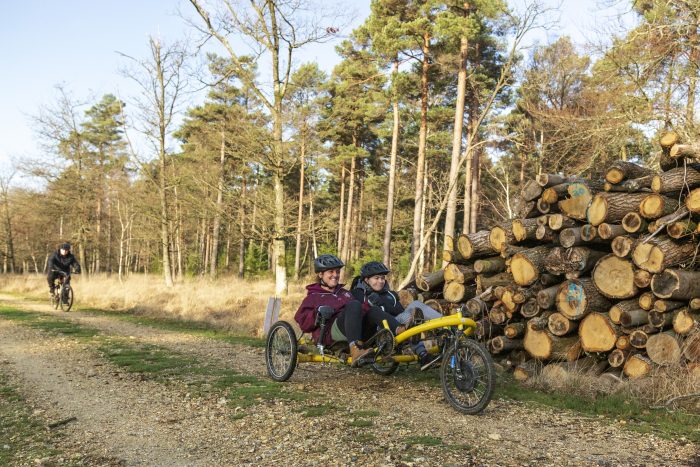 Living locally ourselves, and being regular users of the Forest, we felt that this charity strongly encourages those who previously felt like this was not an option, to join their sessions and benefit from the associated mental and physical wellbeing that cycling provides. It also provides a fun and friendly environment for people with similar barriers to meet and all activities are run by specially trained, experienced staff and volunteers.
Recognition has been involved with PEDALL for a number of years, having designed PEDALL's branding, website and promotional materials in 2015
Director, Martin Blunt who has a real passion for cycling and the outdoors, wanted to further extend his involvement with the charity and we are proud to announce that Martin is now a Trustee for 'Friends of PEDALL'.
Martin will combine his experience and enthusiasm for cycling with his experience and knowledge in design and marketing to provide advice and support to the team. He will also help to promote their services and volunteer his time to deliver high quality, fun sessions around the Forest.
Donna Neseyif, from PEDALL commented:
"We've had a long relationship with the team at Recognition Creative, they are our go to design agency for our website and promotional materials. To be able to expand our service, invest in our equipment and facilities and in turn support more people to enjoy cycling in the New Forest, we need the support of local businesses – so it's great to receive this donation from Recognition. Having Martin on our board of trustees is also a fantastic step. He brings a wealth of industry experience which will help us raise our profile and present ourselves in a professional an engaging way."
If you would like to find out more about this fantastic charity, then please visit: